Surgery For Davin Joseph Monday; Out For Year
August 25th, 2012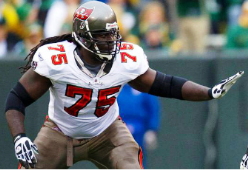 In his day after review of the Bucs win over the Patriots in the final home preseason game of the year, Bucs coach Greg Schiano announced right guard Davin Joseph is out for the year, which was released by the Bucs official Twitter feed.
@TBBuccaneers: Davin Joseph will have surgery on his left patellar tendon Monday and will be placed on injured reserve. … Coach Schiano says he believes the Bucs have the answer for Davin Joseph's absence internally, but they will always see what us available.
So there you have it. Not surprising at all, but still depressing.
As Joe told both Toby David last night and Rock Riley this morning, both of WHFS-FM 98.7, there was no good time to lose Joseph to an injury. But if there is such a thing as a timely moment to go down, this is the time.
In the next week, there will be a glut of players hitting the free agent market, cut loose from their teams. Donald Penn was once such a player.
Also, if the Bucs get wind of a guard who will be cut due to a salary cap casuality, perhaps a trading a low-round draft pick for the guy would make sense.
Usually, teams won't trade for a potential salary cap victim, as why would a team spend a draft pick when they can get the guy free. But not many teams will have a dire need for a guard like the Bucs. So spending a seventh- or sixth-round pick may not be outrageous if Bucs rock star general manager Mark Dominik can land a player that, while may never replace Joseph, will temper the blow.