Stroughter Praised By Schiano
August 30th, 2012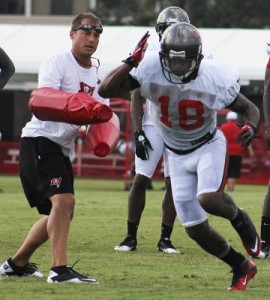 Would Greg Schiano actually praise Sammie Stroughter's performance today and then cut him tomorrow? We're all going to find out soon.
The leader of the New Schiano Order went out of his way to say Stroughter played well against the Redskins during his afternoon news conference today.
Schiano also talked about how there were tough decisions to be made at wide receiver.
Joe's not going to cry if Stroughter gets cut. But Joe would keep Stroughter. He's probably the most proven and reliable returner the Bucs have.