Punting On 4th-And-1?
August 17th, 2012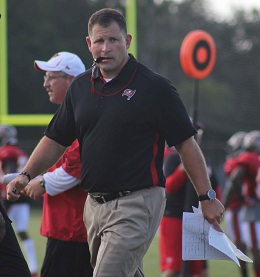 Perhaps Joe is missing something, but Joe can't fathom the rationale behind the Bucs punting on the opening drive tonight at 4th-and-1 from their 41 yard line.
What was the point?
Greg Schiano talks about being a physical football team and one that will have the power and will to run when everyone knows its coming. What a great chance it was to get closer to that goal. Of course, the Bucs could have thrown the ball, or worked on drawing the Titans offsides and then taken the delay of game, if Tennessee didn't bite.
Joe just doesn't get passing on a situation that could have showcased the team's new identity.
What was gained? An extra rep for the punt cover team?
This Bucs offense needs to build confidence. That punt was all but meaningless.