No "Dead" Receivers In Sullivan's Offense
August 7th, 2012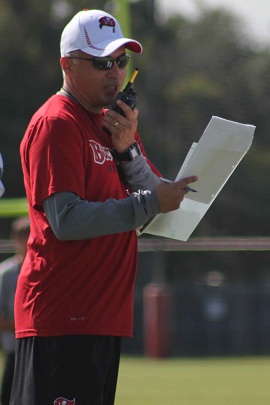 We've already learned the Bucs will incorporate elements of the Run-and-Shoot into their new offense.
And now we find out that Mike Sullivan will give his receiving corps plenty of options and opportunities for dynamic plays.
Speaking on SiriusXM NFL Radio yesterday, Dallas Clark talked about how this receivers-friendly system is a complete change from what he operated under in Indianapolis.
"Coach Schiano, I respect what he brings to the NFL. I think it's something that doesn't really exist right now. He's the type of guy that brings in a lot of fresh ideas. I wanted to be a part of that," Clark said.

"A lot of different options on different routes [in the Bucs' offense]. It favors the receivers. You're not just covered. Certain coverages you do this. certain coverages you do that. It's exciting to know you're not just running this route and I'm covered; I'm a dead player. … You can adjust your routes. There are a lot of options. …It's a fun offense. I'm really enjoying it. I didn't think I would enjoy anything other than [the Peyton Manning] type of offense."
Clark also went on to joke about how he'll miss how the Colts' constant no-huddle under Peyton Manning and how it struck visible fear in the eyes of defenders. "Huddling, I didn't know people did that."
Joe's just anxious to see the Bucs play Friday in Miami. Who knows what this thing is going to look like?
To add more mystery, Carl Nicks, also via NFL Radio, said the Bucs will be running on first, second and third down, and then went on to say ""I think our receiving game is going to shock a lot of people."
The Bucs have the talent on offense to legimately be unpredictable and dangerous on every play. Hopefully, Sullivan has what it takes to turn that into a top-1o offense. For Joe, that's one of the great mysteries of the 2012 season.