Michael Smith Still Amped Up
August 13th, 2012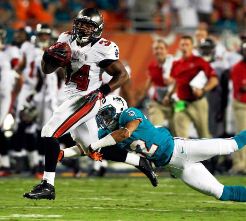 It has now been three days since Bucs scatback Michael Smith gave fans a glimpse of what he can do on the football field.
The seventh round draft pick out of Utah State had two sparkling returns Friday in the preseason debut with a 34-yard kick return and a 74-yard return.
Not shabby for the first time in an NFL uniform.
Smith could hardly contain his excitement speaking after practice Monday.
"I was excited," Smith said. "I was blessed to be able to put the pads on. I was excited, nervous at first. I had butterflies. I expected goosebumps. I'm still excited. I just have to keep working hard every day to show them I want to be here."
Some believe Smith could be the Bucs version of New Orleans' Darren Sproles, who comes off the bench to provide a spark in the rushing attack while also returning kicks.
Smith isn't sure where the Bucs will use him specifically. There's this little obstacle of making the team first, he pointed out. With a repeat performance of Friday, Smith could virtually lock up a roster spot.
"I will do running back; I will do special teams," Smith said. "I am just working hard to show my speed, strength and effort that I want to be here."
The 74-yard return on a punt was electric. Smith broke three tackles though was caught from behind as he was about to take it to the house.
That may not happen again, Smith remarked.
"I thought I was gone but you have to keep running hard. Next time I will run harder."