Mark Barron: You Haven't Seen The Real Me
August 15th, 2012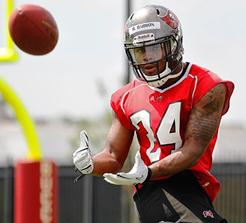 Many Bucs fans who have come out to training camp have seen Bucs first round pick Mark Barron practice.
But that is not the real Mark Barron, so Mark Barron says.
One reason Barron was drafted was that he lays the wood to opponents. He hasn't done much of that yet, Barron said, because the Bucs don't want him hurting others.
"In practice, we are limited because we have to keep each other healthy," Barron said. "You can't really strip because you don't want to hurt anyone's shoulder. So yeah, most of the time, a safety won't stand out unless a day in practice when a safety has a lot of interceptions."
Barron noted that his real self will be displayed in games, and Bucs fans are still waiting. Barron was hobbled by a bum toe last weekend and was a game time scratch at Miami to open the preseason slate.
Provided Barron's toe is healthy, he will play Friday against the Titans, and show NFL fans how punishing he can be.