Mark Barron Talks About His Debut
August 18th, 2012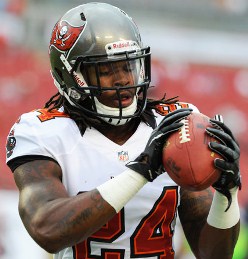 Boy oh boy, was Mark Barron right.
Last week he told Joe, in so many words, that Bucs fans who have come out to training camp haven't seen the true Mark Barron and wouldn't until he played his first game.
In Joe's mind, it was a helluva debut.
The Bucs drafted Barron to be a physical, lay-the-wood safety and Barron showed just that. Barron showed how he has lighting-quick speed. Once, when firing in a scrum to close a game and drop a ball carrier, Barron for a brief moment looked to Joe like John Lynch with closing speed, which brought a smile to Barron's face.
"John Lynch with wheels, huh?" Barron laughed. "I came out and made a few plays, came out and got a feel for the game. I think it was good to get that in-game experience."
Barron was held out of the preseason opener at Miami with a bum toe. So Friday was his first chance to play under the lights in an NFL uniform.
"No, I didn't have butterflies, but I was a little anxious I guess," Barron said. "I enjoyed it. I feel that getting that experience was good for me."
Barron didn't think there was any undo pressure put on him by Greg Schiano or Bucs management but he is well aware of the standards the team has for him.
"They are not putting pressure on me but of course there are certain things they expect of me," Barron said. "So I have I have that in mind to do those things."
Things like filling gaps, being physical and punishing opponents.
"I could have played a little faster in my opinion, but that all comes with experience and knowledge with what you are doing," Barron said. "Once I get more game experience, I will be able to play faster."