Lavonte David Is As Advertised
August 10th, 2012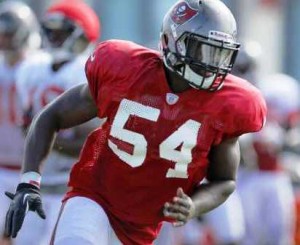 Joe first came to learn of Lavonte David when he watched Cornhuskers games. (Yeah, Joe likes to watch Big Ten football, guilty as charged). It seemed every play when Nebraska was on defense, Joe either heard David's name called or saw him near the ball.
So when the Bucs drafted the sideline-to-sideline linebacker in the second round this spring, Joe was geeked. Finally, a playmaker at linebacker.
Well, even though it was a preseason game and it was against the dreadful Dolphins, David seems to have lived up to the hype.
Dude was everywhere, making plays. His interception of a tipped pass showed how he is a ballhawk and he simply crushed a Dolphin return man on a punt. With the rain starting to come down and most players appearing to run gingerly, David flew down the field as if he was in an Olympic sprint of some sort, enabling him to make the crushing open field tackle.
Joe is just geeked. It seems this drought of getting little to no plays made by linebackers is coming to an end.