Lavonte David Is A Sponge
August 8th, 2012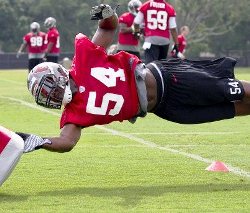 If the Bucs had any unit last year that needed help most, it was the linebackers. Most defenses have what is called "second levels," which is code for linebackers.
Not the Bucs. Once running backs got past the first level, it was off to the races.
Geno Hayes was way too much of a freelancer, Mason Foster was a rookie without any offseason training who played out of position and Quincy Black was, well, Quincy Black.
If there was a linebacker corps last season in the NFL worse than the Bucs, Joe is all ears. But with a new defensive-minded coach, new assistants stressing fundamentals and a new, flashy addition, the linebacker play for the Bucs could be a stark contrast from last year, thanks to rookie Lavonte David.
Though he has yet to play against a different colored jersey, David, who is lighting fast, is already getting raves from Bucs coaches, mostly becuase he has overcome every obstacle the Bucs have thrown at him thus far, writes Rick Stroud of the Tampa Bay Times.
Defensive coordinator Bill Sheridan has thrown the new playbook at David. He also has given him more repetitions than most defenders. In addition to his duties in the base defense, David has gotten looks at middle linebacker in nickel passing situations with the second unit.

"He's doing good," Sheridan said. "Like all the rookies, at some point in camp, it starts to mount up mentally. But he's plowing through it. The nice thing is he's getting a ton of reps with the ones (starters) and the twos, so he's getting coached off film because he's in there a lot. I'm sure guys wish they were getting the kind of reps we're affording him.

"What he brings is he's real instinctive, so even if he technically screws up, he's got great recovery."
This is nothing but good news to Joe. Not only is David versatile, he's also smart. While playing for Nebraska, David was a true sideline-to-sideline type of player; a ballhawk.
He's exactly what the Bucs needed: an athletic, smart, versatile linebacker.