Jeremy Trueblood Shaken By Davin Joseph Injury
August 24th, 2012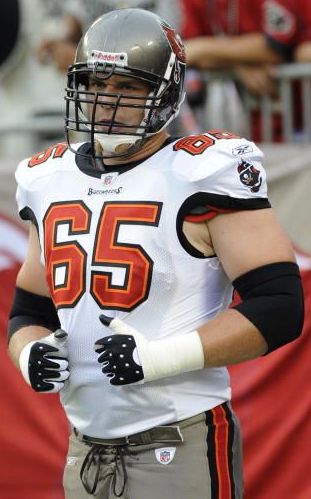 Jeremy Trueblood is tight with Davin Joseph. The two offensive linemen were drafted in the same class (2006, Joseph a first round selection, Trueblood a second-round pick) and all but started at the same time.
The duo is so close, that there were heavy rumors last summer that Joseph was prepared to walk away from the Bucs had Bucs rock star general manager Mark Dominik not also signed Trueblood as part of a package deal.
Even after the game tonight, even after win, Trueblood's mood was more of a guy who had left a wake.
Neither he nor his fellow offensive linemen would comment on the nature of Joseph's injury and the Bucs are being tight-lipped about his condition.
But Trueblood did comment what it was like to see a friend unable to leave the field under his own power.
"You feel bad for anyone who gets injured but knowing Davin personally, it was probably embarrassing for him to get carted off, that's his worst thing," Trueblood said. "We're hoping that it's not that bad but right now, I have no idea.
"I wasn't out there when it happened as I was rotating with [Demar] Dotson so I was watching from the sideline. All I can do is wish him a speedy recovery."