Jeremy Trueblood Needs To Play Smart
August 24th, 2012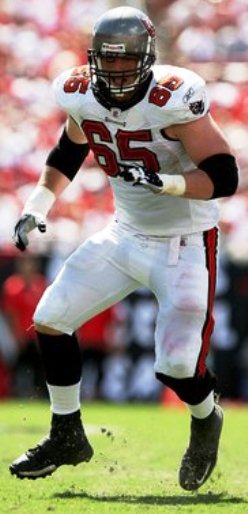 Bucs offensive tackle Jeremy Trueblood is an enigma of sorts. An effective if not at times a crushing run blocker, Trueblood sometime struggles with pass protection.
Then there are those silly penalties he gets in rashes. One of those dumb penalties rose up last Friday against Tennessee when he was flagged for a false start.
Simply put, that's just not having your head in the game.
It's those penalties that could get Trueblood in hot water with Greg Schiano, so writes Stephen Holder in a Tampa Bay Times Bucs chat.
Comment From Frank: When you read between the lines, do you think Penn and Trueblood are on thin ice with Coach Schiano? He has made comments and moves in camp that make me think he would like upgrades at both spots at some point, maybe even this year. Your thoughts?

Stephen F. Holder: I don't think Penn is in danger as long as he does what he needs to do. He's a good player — when he's disciplined with his weight. Anyone who says his weight is not a factor in the way he played last season is blind. But he's great shape right now. All I can say about Trueblood is that Schiano is big on disciplined play. And making false starts is not disciplined. I don't think he'll have a high tolerance from that from anyone
Trueblood had a poor game against Tennessee; let's not sugarcoat things here. It's bad enough if a right tackle is turnstiled time and again during a game. Throw in a few flags, and what's the point of even being on the field?
If Trueblood can just stop the silly penalties, it will go a long way to staying in the starting lineup.