"I Got Hit In The Scrotum"
August 25th, 2012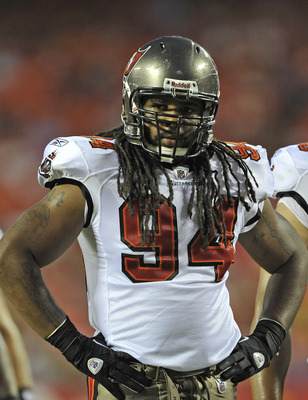 There have been a lot of changes under the New Schiano Order since Bucs coach Greg Schiano took charge.
One of which is, he has tried to turn One Buc Palace into Langley, where the CIA is headquartered. There is barely no piece of information too small to be deemed classified information. Virtually everything is a state secret.
Like paranoia that pervades much of Washington, Schiano views the third estate as a branch of the KGB. Thus, he has instructed players not only to stay away from scribes away on their private time, but they are not in any way to discuss injuries.
So when Joe and the rest of the local pen and mic club paced through the Bucs locker room trying to scape up any morsel of information on injuries to Davin Joseph, Gerald McCoy and Adrian Clayborn, Joe noticed Clayborn laughing and joking with his teammates. He was not wearing any type of wrap on his arm, where it appeared early in the game he suffered an elbow injury.
So when Joe asked Clayborn, who is one of the nicest guys you would every want to meet, if he was doing OK, Clayborn looked at Joe with an ear-to-ear smile and answered, "I got hit in the scrotum," and walked away.
Yes, Schiano has his troops well-trained already.