Final Cuts Today; Busy Weekend Ahead
August 31st, 2012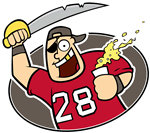 Joe realizes that loads of JoeBucsFan.com readers are not rabid, obsessed Bucs fans like Joe. Loyal Joe readers might find it hard to believe, but the majority on these pages only visit a few times per month.
So Joe is just taking a moment to let everyone know the Bucs must chop their roster down to 53 players, or fewer, by 9 p.m. today.
All day long, Joe will be monitoring roster moves that are sure to leak, and the fallout from official cuts. Stick with Joe all weekend as the Bucs should be busy on the waiver wire and setting their practice squad.