Demar Dotson Hungry For Dolphin
August 7th, 2012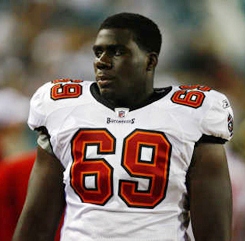 Joe got a chance to chat briefly with Bucs reserve offensive lineman Demar Dotson after practice today. The sign of a reserve playing well is when he fills in for an injured starter, and there isn't much of a noticeable drop off. That's exactly what Dotson has done in training camp as Donald Penn recovers from a minor leg injury.
Dotson talked about how he is sick of practice already; how he has benefited from playing next to Carl Nicks, and how Jermon Bushrod has indirectly helped him.
Looking forward to Friday's game at Miami?
We have been beating up on each other all camp. We are tired; we are hurting; we are mad; frustration is setting in. We are looking forward to seeing another color jersey so we can go at it.
What are you looking to accomplish?
Just getting better. Going up against Cameron Wake, a Pro Bowler, defensive end, doing my job and winning the battle.
How has playing next to Carl Nicks helped you?
He helps a lot, he's a Pro Bowl guard. He teaches me a lot. He teaches me what he is doing in New Orleans and what he learned from [Jermon Bushrod] another Pro Bowl left tackle in New Orleans. He teaches me a lot. He teaches me how to set and play in the game. He has been huge for me, there's no doubt about it.
Has Nicks showed you his nastiness yet?
Oh, that's a habit I have myself. You can't make a man be nasty. You either have it or you don't. Oh, I've got it.