Barrett Ruud Back In The NFC South
August 20th, 2012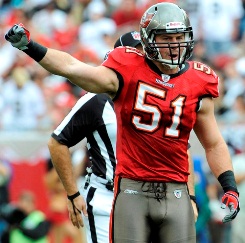 Joe cannot remember one player who so divided a Bucs fan base like linebacker Barrett Ruud.
NFL authorities from national types down to Bucs coaches lauded Ruud for what he was supposed to do in the Tampa-2.
Many Bucs fans and one local former Bucs player who makes a living behind a radio microphone would not listen, despite the fact Ruud led the Bucs in tackles. They demanded Ruud do what he was not supposed to do, and that was be a combination of Dick Butkus and Jack Lambert, in other words, a fifth down lineman.
Countless glasses of beer were thrown at local barkeepers due to the rancor and anger Ruud ignited in local watering holes. Neighborhood dogs and cats feared his very name.
Well, Ruud will be talked about again in the Tampa Bay area as the Bucs' division rivals, the New Orleans Saints, acquired Ruud in a trade for an undisclosed draft pick, per multiple sources.
So Bucs fans get ready: your heckling of Ruud has not come to an end.