Training Camp Musings – Day 1
July 27th, 2012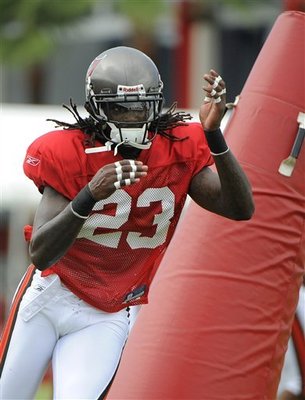 After watching OTA days and minicamp, Joe was struck by how much slower the tempo was during training camp today. Things were definitely down a couple of notches.
Perhaps that's because of the heat and the team is pacing itself? Perhaps some guys were tired after a second conditioning test this morning? Perhaps it was just a byproduct of "installations" and lots of coaching? Regardless, practice wasn't at the likely unsustainable pace of the offseason.
Cody Grimm told Joe today's opening practice was long and tough, guys cramped up and he's sure it's "going to be pretty cranked up here" real soon. Grimm said things might have moved slower as guys learn more about where to be on the field.  Dallas Clark also talked about the grind of "all install" over the first few practices.
*Tiquan Underwood was a standout. He beat Eric Wright easily on a completed, 50-yard bomb, and he also drew a holding penalty on Aqib Talib late in practice. Underwood caught other balls and just seems to be working extraordinarily hard and has the fitness to sustain it. Joe gets the sense he fits the cliche "doing everything asked of him."
*Regarding Talib, he was seen stretching on the ground during practice. And at one point Greg Schiano talked to him while he was stretching and Talib went in the building with training staff but returned within 10 minutes or so. When Talib held Underwood, blatant and called by practice referees, clearly Talib was gassed.
*Joe's ready for pads to come on and guys to hit each other. Enough already with underwear and helmets football. On one play, Doug Martin caught a ball in the flat and was one-on-one with a closing Ronde Barber. Martin appeared to beat Barber inside and the crowd cheered, but there's no way to tell if Barber makes the play when there's no hitting allowed. Also, Barber did flush him inside, which is his job if he's not going to make the tackle. It was just a great example of how it's impossible to tell who will/can make plays without pads on.
*Joe saw some good things in pass coverage out of Jacob Cutrera (tipped pass) and Dakoda Watson. And some not so good things in pass coverage from Myron Lewis.
Joe will have more thoughts and interviews through the day and into tonight.