"That's When You Establish The Men"
July 29th, 2012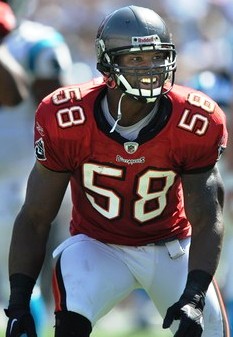 It's one of the greatest quotes in modern football history, uttered by Raheem Morris when asked what's different about training camp versus Spring practices. (Here's the famous video.)
"Training camp is a little bit different. You know to me, that's when you establish the men. You know you take off your underwear. You put on your big boy pads. And you put your face on people. And that's what training camp is about." — Raheem Morris
Well, today is the day. The pads come on for the Bucs for the first time. The crazy new labor agreement in the NFL seriously limits the amount of old school, win-a-job-by-hitting-people-in-camp days available to coaches. So every practice in pads is critical.
Greg Schiano wants a beastly physical team. Well, fans will get to see how that's interpreted today.
Last week, Joe was asking linebackers coach Bob Fraser about evaluting his unit, and Fraser very candidly said while the Bucs linebackers are working extremely hard and the team can evaluate a player's pace of learning and his ability to "get there," it's a complete unknown whether guys can do more than that.
"Can he make the play? That's what you find out when you put pads on," Fraser said.
The Bucs linebackers have more to prove than any other unit in the NFL, and Joe can't wait to see what they've got — starting today.