Rotten Tackling
July 7th, 2012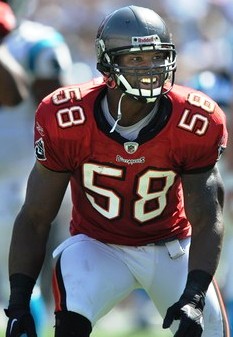 Joe has gone on record several times calling the Bucs' 2011 linebacking corps the worst linebacker unit in all the NFL.
And it wasn't close.
When teams ran the ball at the Bucs, once the ballcarrier got past the first level, it was quite simply a jailbreak, snap after snap, the way opposing running backs ran wild on the Bucs.
Since it is early July, the unofficial dead season in the NFL calendar until training camps begin later this month, the football eggheads at ProFootballFocus.com decided to study tape of the last three years and they camp up with the worst group of tacklers playing linebacker in the NFL.
Not surprisingly, two Bucs were in the top (bottom?) five, Geno Hayes and Quincy Black.
In 2,563 snaps, Hayes had more missed tackles than assists. So did Black, logging 1,833 plays.
Following hot on his heels in the list are Hayes and Levy, both of whom have racked up misses and whose ratios are only marginally behind that of Weatherspoon's.

Hayes' teammate in Tampa, Quincy Black also notched his fair share of missed tackles, as the entire Buccaneers defense seemed to be engaged in a competition last season to see who could miss the most.
Unless Sam Monson, who did the research, was totally off in his study, Joe has no earthly idea how any defensive player can have more missed tackles than assists. Hell, you just fall on a guy who is lying on the ground and you get an assist.
Yes, Joe knows Hayes is gone, but Black is still among us. Still, this is a disturbing thought that such a sloppy tackler remains in the Bucs' starting lineup as training camp approaches.
No wonder new Bucs coach Greg Schiano said his No. 1 goal is to somehow fix the defense and to stop the run.
Joe will give Black some slack this season as this is a new regime and from all the whispers coming out of One Buc Palace, Black wasn't coached up (along with many others, apparently).