Penn Will Miss "Maybe A Couple Of Weeks"
July 26th, 2012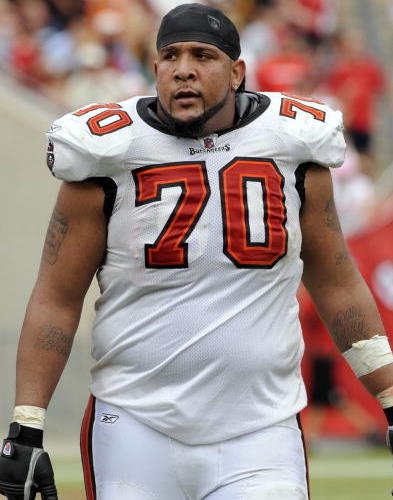 The Bucs have yet to hit the field, but there is a significant injury in the house. Donald Penn, the hero of minicamp, has a calf strain and will miss "maybe a couple of weeks, said Greg Schiano.
The injury occured after minicamp broke, Schiano said. Penn notified the team and reported early for medical treatment. Joe got wind of Penn's injury yesterday but his agent, Rocky Arceneaux, would not return calls or emails requesting comment.
Offensive line coach Bob Bostad told JoeBucsFan.com that the challenge now is to keep Penn mentally sharp and get him all the mental reps. And Penn's other focus, Bostad sadi, is he has to be to get "them to kick him out of the training room. He's got to get back as quickly as he can."
Joe's not concerned. If Penn can get back on the field for the third preseason game — four weeks from now — Joe would think that's plenty of time.
Demar Dotson is next on the depth chart.