Mark Barron, Bucs Getting Closer To Pact
July 18th, 2012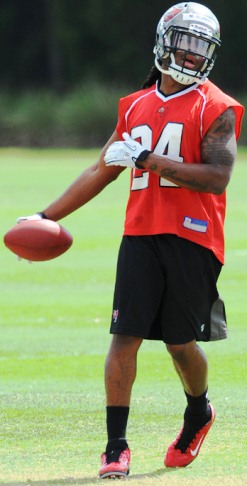 So far this season, about the only news that Bucs first round draft pick, safety Mark Barron of Alabama, made was being on the wrong end of a Brian Price right hook.
It appears Barron may be making some news in the near future, and it has nothing to do with getting blasted in the grill in a meeting room at One Buc Palace.
Joe often gets Twitter messages and e-mails asking why he doesn't write about so-and-so signing a Bucs contract. In Joe's eyes, only if a draft pick doesn't sign is it news.
So far, Barron has not signed, but Woody Cummings of the Tampa Tribune believes both sides are nearing ink on paper.
Safety Mark Barron, the No. 7 overall pick and the first of the Bucs' two first-round selections, remains the team's only unsigned draftee, and there's a chance he won't report until his contract is finalized. That could happen as soon as today or take until just before the start of camp workouts.

Given the way rookie contracts are now structured, however, a holdout seems unlikely.

Barron's agent, Jimmy Sexton, knows Barron eventually will sign a four-year contract with a club option for a fifth year that includes a base salary for 2012 of $390,000. He also knows that Barron will receive a signing bonus of approximately $9 million, because last year's seventh overall pick, 49ers linebacker Aldon Smith, received an $8.96 million signing bonus.
Now that RGIII has signed with the Redskins, Joe believes the dominoes will quickly fall, and that Barron will be in a Bucs uniform within a few days.
Barron's fellow Buccaneer rookies are getting drilled and grilled at One Buc Palace — rookies reported today — while Barron waits for his lawyers to slug it out with rockstar general manager Mark Dominik and put his signature on a deal.
It's easy to say Barron's absence before full squad training camp starts next week is rather meaningless. But if you go there, then you can't buy in to the theory floated last year by Raheem Morris and others that claimed any and all offseason time with coaches is critical to a player's development.