Less Reading Is Good For Quincy Black
July 30th, 2012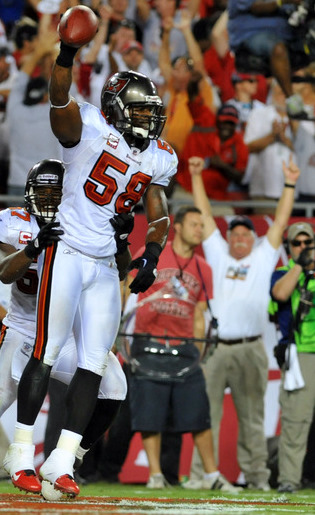 The man Joe and many other fans expect nothing from this season, Quincy Black, seems to be working on an epic resurrection.
Black prefers his role in the New Schiano Order defense and he's been making plays throughout training camp. The leader of the New Schiano Order even gave a post-practice pat on the back to Quincy Black before the local media corps today. WDAE-AM 620 Bucs beat writer Tom Krasniqi documents Black's feelings and much more from today's camp session.
Strongside LB Quincy Black struggled mightily last season, but seems to be more comfortable in this defense.  "It's more attacking…it's not as much read.  It's like get up and go and everything else falls in place", says Black.  At one point during Monday's practice, Black laid a hit on WR Vincent Jackson on a bubble screen.  He's made a couple of eye-opening plays so far in camp.
What a bonus it would be for the Bucs if Black can make some plays and tackle. Joe's hardly expecting miracles, but clearly Black's and his giant contract will be on the opening day roster. Good luck, Mr. Black.