Fullback Will Have Bigger Role In 2012
July 29th, 2012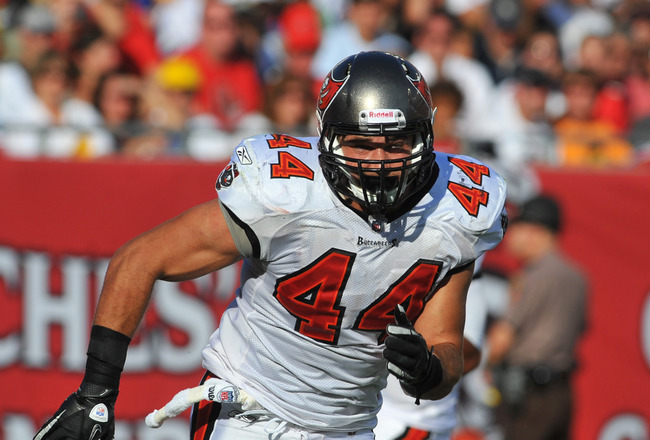 From the limited reps thus far seen in training camp, it seems the Bucs are planning to use a more traditional blocking fullback this season. Joe had a chance to talk to FB Erik Lorig, who confirmed that more fullback play is likely. Lorig also talked about transforming his body and Earnest Byner.
JoeBucsFan.com: How would you tell the typical Bucs fan how the fullback's role in the offense will be different versus last season?
Erik Lorig: I think the fullback's role will have more responsibilities, more of a role with the offense. I think you'll see the fullback more, and I think you'll see an empahisis with the fullback in the run game. I think you'll see it more involved.
Joe: How has your position coaching changed?
Lorig: It's definitely different. You get a different coach, coming from a different perspective and experience. This year we have a great coach. A great, great running backs coach in Earnest Byner. He's a former player, 14 years. He's a phenomenal coach both with the playbook, as well as on the field. I couldn't ask for anything better for me, especially, coming into my third year here. That's exactly what I need and what I want.
Joe: You look like you've lost a significant amount of weight. What's the deal there?
Lorig: I've leaned out a lot more. I've really focused on my diet. The staff here has come at us really at a hard angle with diet. Our [Bucs] nutritionist, I've been working with him all offseason to lean out and be stronger, faster and then ultimately lighter.
Joe: Did you approach this offseason differently outside of the diet?
Lorig: I got some experience under my belt. So I think about different things in the offseason when it comes to the game as a result. Instead of thinking about camp and getting ready for camp all offseason, I'm thinking about little things in camp, like what kind of technique I'm going to use on [a specific] play.