Bucs Have Best Practice Thus Far
July 31st, 2012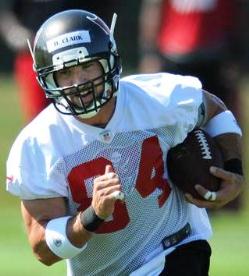 Though Joe enjoys the feedback he gets from fans on Twitter about training camp, Joe often chuckles when he gets the "How's [player-X] look?"
As Joe often answers, the player looks about what his listed dimensions appear to be.
Until players compete in actual games, even preseason games, unless a player is owning training camp, there's little to tell about practices, specifically when they practice in underwear.
But to the trained eye, such as the pair of eyeballs from Bucs coach Greg Schiano, Monday's practice was much better than the "sloppy" practice Sunday, so typed Roy Cummings of the Tampa Tribune.
"I thought the effort was outstanding today," Schiano said. "Probably the best we've worked in the four days, certainly the hardest. We cleaned some things up, which is good."

The Bucs concentrated more Monday on situational football than they have in other workouts and one of the players that stood out to the coach was veteran tight end Dallas Clark.

Clark, whom the Bucs signed as a free agent during the offseason, made a diving fingertip catch along the sideline during one drill and has performed impressively since camp opened.
Again, it's nice to make fingertip catches while performing drills. But doing that when a cornerback from another team is draped all over a receiver is when Joe will take notice.