Benn, Biggers Out At Least 2 Weeks
July 28th, 2012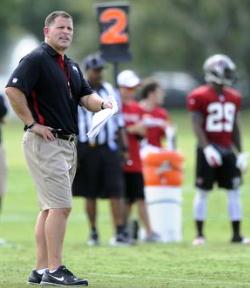 Speaking to the Tampa Bay pen and mic club after practice of Day 2 at Bucs training camp today, Bucs coach Greg Schiano shed some light on the injuries sustained to wide receiver Arrelious Benn and cornerback E.J. Biggers.
But just a little.
The two got tangled up in practice yesterday. Benn has a sprained MCL and Biggers has a broken bone in his foot.
Schiano was playing rope-a-dope when hit with questions about the injuries, even going so far as to say he didn't know which foot Biggers injured.
"It's not certain what [the time missed] will be but it is not a short-term thing for both of them," Schiano said. "If it is more than two weeks, and you go from there. You never know. I always ask for a worst-case and a best-case and it is usually somewhere in between.
"These two guys will get back."