Adrian Clayborn Is Hungry
July 1st, 2012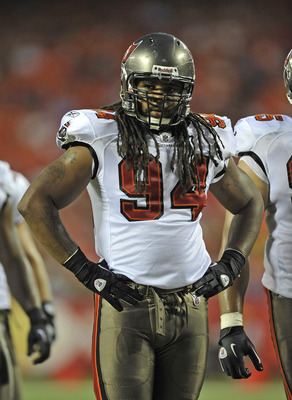 Yeah, Joe will write about the changes in the NFL blackout policy shortly, (Joe is finishing some research), but first Joe wants to share a Twitter funny from Adrian Clayborn.
The only Buccaneer that could consistently scare quarterbacks last season (7.5 sacks), Clayborn is hungry as the 2012 season approaches. This is no suprise, as the Bucs' second-year defensive lineman is half-man/half-dog and he plays borderline illegal, as Raheem Morris liked to say.
Adhering to a strict diet regimen was getting to Clayborn around midnight last night, so he Twittered.
@AjaClay – Eating healthy sucks! And I just want te whole world to kno that I don't like it! … Make it worse……got these big girls arciss the bar eating WHATEVER THEY WANT!!!
Joe's glad to see that a hungry manbeast like Clayborn can control his appetite. Joe's liking this small display of discipline under the New Schiano Order. Passing on late night bar grub while watching large women maul plates of fries, cheeseburgers and wings is tough duty.