K2 Truth Session Raises Thoughts, Questions
June 16th, 2012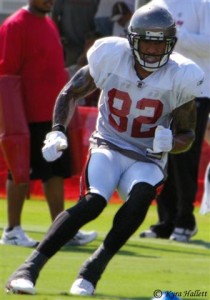 Check the post below this one if you haven't experienced the "Real Sh*t" venting by former Bucs TE Kellen Winslow, Jr. that Joe posted late last night. Winslow, while completely relaxed and thoughtful, essentially said he couldn't stand the New Schiano Order because the coach is too serious and Winslow couldn't joke around and have a good time at practice. (This from the guy who can't participate fully and/or regularly in most practices.)
Therefore Winslow passed on OTA practices and made it known he was disinterested in being a Buccaneer. What a teammate!
This has many thoughts swirling in Joe's head:
1. With an attitude like that, what kind of cancer at any point was Winslow for workaholic Josh Freeman?
2. Given the baggage Winslow brought to Tampa Bay, did Mark Dominik err in trading away a second round pick for him? Previously, Joe made the argument that Winslow wasn't a bad deal because he was a key figure/target in Freeman's development. That's still true, but Winslow may have had more downside than previously thought.
3. How many other current Buccaneers can't stand the New Schiano Order?
4. As Jeff Darlington astutely wrote recently on NFL.com, Schiano's demanding ways mean players will have to see results relatively quickly or there could be a mutiny or they could no longer buy in. What might the timing/threshold of that be?
5. Clearly, Schiano did Winslow a favor by not commenting to media on Winslow's departure. Schiano took heat from on that from many scribes, but he might have built some serious trust points among the Bucs who knew of Winslow's attitude/deal. And now everyBuccaneer knows Winslow was too much of a mental midget to handle life under the New Schiano Order.