The Secret Behind Signing Leonard Johnson
June 8th, 2012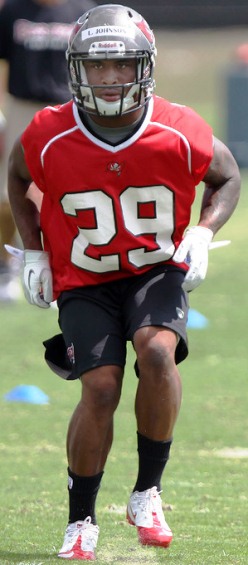 Yeah, Joe's a little excited about rookie cornerback Leonard Johnson's chances with the Bucs. He's widely regarded as the best cornerback who fell through the cracks of the 2012 draft.
Now many point to Johnson's high-water mark in college of holding eventual No. 5 overall pick Justin Blackmon to under 100 yards receiving in Iowa State's upset over then-undefeated Oklahoma State last year as a reason why Johnson is a good cornerback.
But Andy Benoit of the gridiron thinktank FootballOutsiders.com believes the Bucs selected Johnson for his run-stopping ability, not so much his pass defensive skills.
Cornerback Leonard Johnson of Iowa State was one of the best players in the draft pool to make it to free agency. Johnson is short, a half-step slow, and does not have top ball skills, but he loves contact and finds a way to cover bigger receivers. He could have a long career as a slot corner who excels in run support and when buzzing around in underneath zones.
This makes all the sense in the world to Joe, and frankly, Joe didn't think of this angle.
Look, the Bucs last year stopped opposing rushing attacks about as well as one could stop the Hoover Dam with a shovel. Running backs ran through the Bucs defense like wild boars. It was nauseating to watch.
New Bucs coach Greg Schiano said his No. 1 priority was to improve the rush defense. So signing a free agent cornerback who loves contact and can stop the run adds up.