"The Kind Of Men We Want In Our Program"
June 28th, 2012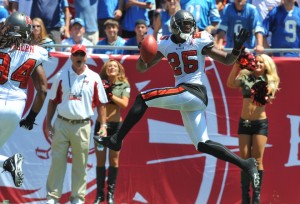 Greg Schiano wants what he calls Buccaneer Men.
In fact, he won't tolerate men who aren't Buccaneer Men, guys who exemplify caring, work ethic and accountability.
So it stands out that Aqib Talib got a powerful endorsement from the leader of the New Schiano Order, which can be seen in this new video on the Bucs' official website. "That's the kind of men we want in our program," so Schiano said of Talib's activity in the community alongside Schiano during the players' vacation Tuesday.
Scroll down the page to see more about where this video was shot. Joe touched on this hours ago, but now the video drives it home.
Talib and Schiano. Who saw that marriage coming five months ago?