"Standard Of Our Conditioning Has Been Lifted"
June 13th, 2012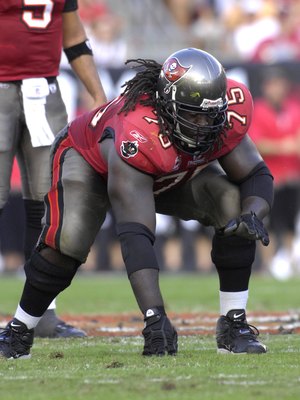 Last year during the asinine lockout, Davin Joseph talked about enjoying the opportunity to do Yoga in the offseason and other alternative training.
He even went so far to call the lockout "a blessing" last year because of the time it gave him to improve his body and work on more conditioning detais. And Joseph returned to the Pro Bowl as the Bucs' lone representative after the 2011 season.
Today, Joseph explained that he still searches for time for personal workouts, but he's been very busy training with the Bucs because "the standard of our conditioning has been lifted" above those of previous regimes.
"You don't have much free time this offseason as you did last offseason, so of  course you went to be here first," Joseph said. "Our first priority is to be here, and that's my first priority. Anytime I can get a workout in outside of here I will. Most of the time we're up here working pretty hard. I think we're more power lifting this year. I think that's been a major change, more power lifting, more conditioning, and so that's been the major change of coaches [and we still have] the traditional lifts that every strength and conditioning coach is going to do. But the standard of our conditioning has been lifted. We're really expected to be in tip-top shape by the first day, unlike other years."
Joe finds the raising of the conditioning bar under the New Schiano Order very intriguing, especially with Joseph having played for Chucky and Raheem Morris. Even Ronde Barber today talked about how he hasn't pumped this much iron in years.
This can only help. Raheem talked about wanting to be violent, but the Bucs were soft in many ways, and now fans know the standards have been raised. The Bucs may not deliver a winning season, but Joe suspects they'll be far more physical.