Schiano Working On Being Trusted "Completely"
June 10th, 2012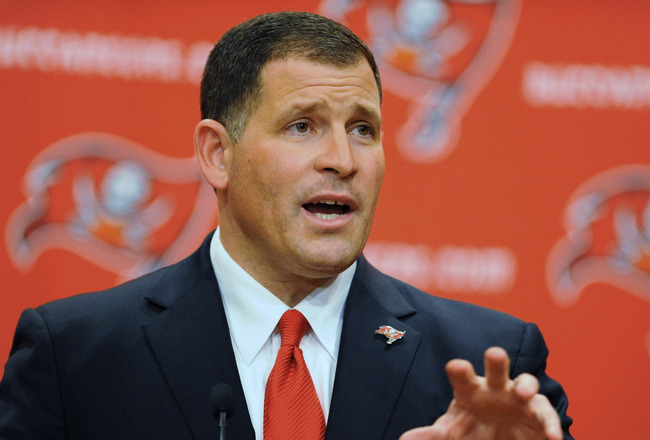 The leader of the New Schiano Order carved out time from his daily 1440 recently to hang out with Tampa Tribune sports columnist/humorist Martin Fennelly. The result was Fennelly penning a very long column today with his various observations.
Below Joe has excerpted part of the segment on trust, one of Schiano's core beliefs.
Trust – it's the biggest thing.

"That to me is the hardest thing as a head coach and a staff to try to build with our players," he said. "You may not like what we say but you're going to get the truth. No shenanigans. We're not going to say something, then do something else.

"Do they trust me yet? Not yet, not completely. I think, step by step, it's like putting money in a bank account, it grows. The balance grows."

The Bucs head coach says he gets it, the whole publicity thing, the media thing, the ticket-selling thing. We might get to know him, or might not, but if we do it will take a long time – and it will take trust. Translation: You might never see a Greg Schiano Bucs team on HBO's "Hard Knocks."

"As far as the private part, I think the relationship between player and coach, it either grows or it gets ripped apart," Schiano said. "If you have a relationship and all of a sudden the most intimate parts of that relationship become public, that makes it very hard for that relationship to grow. That's why I'm very protective of relationships within the building.

"I understand, more than probably most coaches, that we're entertainment. That's what we are. I get that. Yet, as coach, that's not where my focus is. My focus is to provide a vision, teach them the fundamentals and make sure we play with great effort. But at the end of the day, that's not what the fans see, they see the entertainment part. That's why I think if a player wants to be open about human interest stories, I think they're great. That is what fans hook onto."
Joe found the last sentence above very interesting, and Joe has to disagree with the coach. Joe's of the mind that fans in 2012 are not craving human interest stories that don't involve cheerleaders; they're yearning to soak up as much real football as possible — from changes in drills to nuances of schemes to what a player's read was on a particular play. Especially with the millions of fans trying to gain an edge in fantasy football.
There's a reason BSPN and NFL Network are offering more and more film breakdown looks every season. And Joe knows how popular former Bucs defensive end Steve White's Xs and Os analysis has been over the years.
Regardless, Joe hopes Schaino makes great strides in all phases, from trust to all the other stuff referenced in Fennelly's column, during this week's mandatory minicamp. After Thursday's practice, his team will disappear until training camp opens in late July.