Paul Gruber Called To The Ring
June 5th, 2012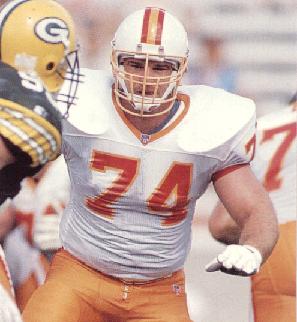 Bucs icon and preseason game analyst John Lynch has spilled the beans: retired Bucs left tackle Paul Gruber is the next inductee into the Bucs Ring of Honor.
The Buccaneers are scheduled to make an official announcement tomorrow, but Woody Cummings of The Tampa Tribune talked to Lynch, who expressed his approval of the pick.
Gruber spent his entire 12-year career with the Bucs, playing left tackle for them from 1988 to 1999. He was a three-time All-Pro selection but spent most of his career playing in relative anonymity.

"He was a guy that really didn't like being in the limelight very much, but it's good now that he's finally going to be in the limelight," Lynch said. "I'm really happy for him. He really deserves this."
Joe believes Gruber fully deserves the honor. However, Gruber getting in this year is interesting and surely makes it hard to predict where Team Glazer will go with the Ring next season. There are still deserving older Bucs like Doug Williams and Ricky Bell, plus Hardy Nickerson and all the glory-years Bucs. And Malcolm Glazer surely would be a deserving choice.
Congrats to Gruber, who suffered and thrived through so many years of orange woe before the Bucs made the playoffs in 1997, his 10th season.