Millard Already Impacting Titans
June 25th, 2012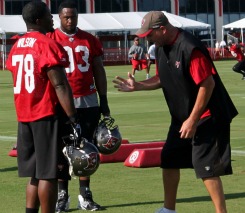 One of the most exciting hires by the Bucs last year was pass-rush guru Keith Millard. He came to Tampa with big-time experience and a strong endorsement from Warren Sapp, who was coached by Millard in Oakland. Plus Millard brought an old school work ethic and everything about him screamed that he was a no-BS football coach.
Dare Joe say Millard seemed to exemplify a coaching version of what Greg Schiano calls a "Buccaneer Man."
But Millard, who had no 2011 offseason to teach the defensive line thanks to the asisnine lockout, got the boot with the rest of Raheem Morris' coaching staff. It was the one staff loss that made Joe cringe. And those who want to know how hard Millard took the news can read Joe's two-part interview with him after last season.
Millard landed with the Titans and Tennessean reporter John Glennon has penned an interesting feature story about Millard's instant impact with his new team. Here's an excerpt:
Judging by what the team's defensive linemen are saying, Millard is doing just that. He's in the process of overhauling much of what the Titans have learned about pass-rushing, whether that means changing their hand placement, footwork, hip movement or strategies to get after the quarterback.

Defensive tackle Shaun Smith called it Football 101. Defensive end Derrick Morgan said it's about demanding perfection to detail.

And defensive tackle Karl Klug, who led the Titans with seven sacks last season, admitted he was a little overwhelmed during offseason practices.

"He's teaching a lot of different stuff than what we went through last year," said Klug, whose sack total led all NFL rookie defensive tackles. "Everything, from footwork to the rhythm of the pass rush that he's been getting us to learn, has kind of been a struggle for most of us.

"It's just different and it takes a while to get used to. Hopefully by the time training camp rolls around, I'll have a better grasp of it."
Randy Melvin and former NFL great Bryan Cox have taken over the role of molding the Bucs' defensive line. And mysterious advisor Butch Davis, an accomplished defensive line coach himself, likely is scrutinizing practice film of the Bucs' D-linemen.
The prized prospects along the Bucs' D-line might be in great hands, but Joe really can't say with certainty the Bucs have upgraded their coaching in that area.