It's Not The Giants' Offense, Says Mike Sullivan
June 12th, 2012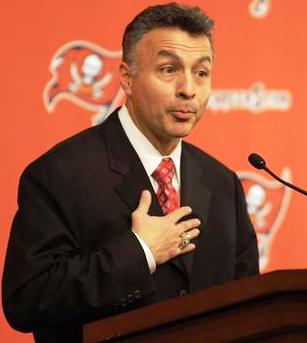 Former Giants receivers and quarterback coach Mike Sullivan is a first time offensive coordinator and many pundits have just assumed he showed up at One Buc Palace with Tom Coughlin's playbook raring to go.
Sullivan would transform Josh Freeman into Eli Manning, and LeGarrette Blount and Doug Martin would take the roles of Brandon Jacobs and Ahmad Bradshaw, and everyone would be happy.
Don't go there, Sullivan told Joe yesterday, after asking Sullivan to explain the evolution of the Bucs' playbook starting with the day he interviewed for the job. Joe never mentioned the Giants, but Sullivan wanted it clear that the Bucs' offense will be its own unique amalgamation.
"Really, it's a combination and the synthesis of a bunch of different ideas. I mean to say that this is, you know, a New York system is really a misnomer," Sullivan said. "There will be some components, but there's so much experience that's on here. You know, between the guys sitting [next to me,] Ben McDaniels from his experience from being with his brother in Denver and Earnest [Byner's] experiences in Tennessee and Jacksonville, and Jimmy Raye and his 30 odd years in the league and Ron Turner. So it's foolish just to not listen to and accept and kind of mold and get an assessment of what type of players we have and how we can fit everbody's ideas and concepts into what is the Buccaneers' offense.

"And so it's really been a very dynamic process, and we're still trying to finalize and really hang our hat on the things we're going to be good at, that we're going to feature. … So I would just say that while there are some components to a New York system, I think what it boils down from a fan standpoint. I think they just need to anticipate and expect that the product that is out there is a unit that is tough, that is smart, and that is explosive. That's going to be our marching orders to what we want out there on the field."
Joe found it somehat interesting that Sullivan didn't mention Greg Schiano when talking about the development of the playbook. Surely Schiano was all over the details, but perhaps the head coach didn't take a dominant role in crafting the offense, other than making it clear he wants to pound the ball like teams did back in the 1970s.
Regardless, Sullivan might have the most pressure on him of any Buccaneer not named Freeman. On paper, the Bucs have a powerful, win-now offense. Sullivan needs to prove quickly that he's an adept play-caller.