A "Hot Seat" For Mark Dominik?
June 3rd, 2012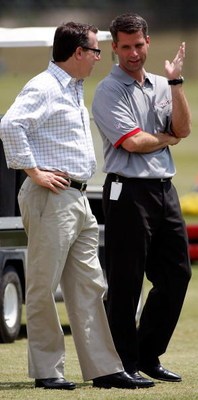 A fan seemingly preparing for the ouster of rockstar general manager Mark Dominik fired a question off to ESPN NFC South blogger Pat Yasinskas about the job security of the Bucs' big cheese during a live chat Friday.
Apparently, this fan doesn't believe the bold assumption floated by Tampa Bay Times writer Stephen Holder that Dominik has already been stripped of much of his power, and neither does Yasinskas, based on his response.
Jared (Tampa): Pat, lets kick this chat off early…Do you think if we do not see key drafted players have a strong season for the Buccaneers Mark Dominik will still be with us this time next year? Who are the players that need to have strong seasons besides Freeman and Clayborn?

Pat Yasinskas: If they have a bad record, yeah, he could be on the hot seat. But I think you'll see some progress from the Bucs this year. I'd throw Gerald McCoy (if he stays healthy) into that category on your second question. And I think this year's first three draft picks also will make pretty instant impacts.
Sure, Dominik could be in hot water if the Bucs don't show progress in 2012, but for Joe this is more of the talent-vs.-performance debate. Clearly Dominik has made bad moves, but he's also had top-shelf calls on his watch. Joe's mindset during and after last season was the Bucs were most vicitimized by coaching gone terribly wrong than anything else. You can't open 4-2 with wins over two playoff teams and then blame the GM for a historic collapse.
That written, after four seasons, 2009-2012, Dominik surely will have a much more complete record on which to be judged.