Sniff Mike Jenkins Carefully
May 3rd, 2012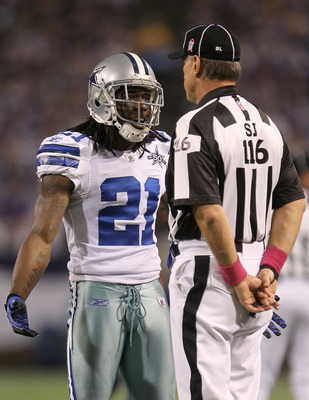 After the Cowboys leap-frogged the Bucs in the first round of the NFL Draft last week to snatch Morris Claiborne, a hot rumor from credible outlets had the Cowboys shopping former first-round pick and 2009 Pro Bowl cornerback Mike Jenkins.
And one would think the Bucs would have their antennae out, given that rockstar general manager often says a team can't have enough quality cornerbacks, penciled-in starter Aqib Talib is fighting a felony charge, and the Bucs' depth at the position is suspect.
But the Cowboys' desire to move Jenkins is a red flag, so former Bucs defensive end Steve White said on WHBO-AM 1040 yesterday. White was an assistant coach at USF when Jenkins played for the Bulls and is a longtime Cowboys fan.
"There's a reason why they're trying to shop their former first-round pick," White said. "Mike Jenkins has been hurt. He has a ton of potential but he's only really loved up to that potential for one year a couple of years ago. I like the kid personally. I was a [coach] at USF I think his junior year. So I think he's a really good kid. I just don't know that you throw a whole lot of money at him or a whole lot of high draft picks to get him, because if he was that good, I'm pretty sure Dallas would want to hold on to him."
Jenkins is coming off shoulder surgery and is in the final year of his contract. Joe was intrigued that White gave Jenkins a "good-kid" endorsement, not something he would toss out there for anyone.
Is he worth a sixth-round pick, if Dallas would make such a move? Joe's not sure. But the Bucs can surely afford him, and it's a safe bet he's a better player than E.J. Biggers and Myron Lewis. At 27-years-old and from the Tampa Bay area, Jenkins is an interesting thought.