Najee Goode, Keith Tandy Band Of Brothers
May 5th, 2012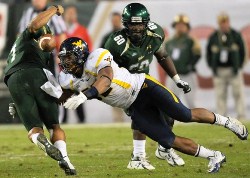 When the NFL draft happens every year, rarely are two guys from the same school selected by the same team.
Oh, it happens from time to time. It's just not the norm.
But two guys who were roomates drafted by the same team? Joe has never heard of such a thing (and really doesn't want to pore over pages and pages of websites in a desperate effort to find the truth).
However, that's just what happened this spring when the Bucs drafted LB Najee Goode and CB Keith Tandy out of West Virginia. The two were roommates for four years at West Virginia and continue to be now, both rooming together at the Bucs' team hotel.
Throw in the fact that both players knew new Bucs coach Greg Schiano from their Big East days. So usually, when a guy is drafted by an NFL team, rarely do they know their new coaches or even teammates. 
"There was a lot of excitement when Coach Schiano drafted me," Goode said. "Just to get the chance to play for him is great. I played against him and he's a great coach. I am just happy to be in Tampa.

"The chance to get drafted is a big one, especially hby a coach I already know. It eases over the stress.

"I happy to be here but to be with my roommate is great. Gives me somebody to talk to, someone I can beat up. That is cool. We are on the same side of the ball. He is talking to me when i am tired and I am talking to him when he is tired.
This, Joe thinks, may be significant. As Goode pointed out, having a couple of guys with him that he knows, especically his roommate since his freshman year in college, makes the transition all the more smooth.
Goode also told Joe he has been working out at all linebacker positions.