Greg Schiano Orders Drink Detail
May 4th, 2012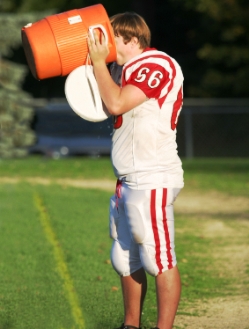 Much was made of Greg Schiano's first recorded words coaching Bucs players at a voluntary workout recent when Schiano barked about "details," specifically how players lined up for stretching exercises to begin each practice.
Schiano's detailed philosophy also extends off the practice field as well.
Discussing the difference between his first NFL practice and the practices he was used to at Boise State, first round draft pick Doug Martin mentioned how players are to spend meetings.
"He wants us to have drinks," Martin said. We're required to have two drinks with us during every meeting."
No, Joe's not talking beers or cocktails.
"Water or Gatorade," Martin said.
Schiano doesn't care which drink a player chooses, or if they mix it up, so long as they have two drinks at arm's length at all times.
This is, of course, to help keep players hydrated.