Freeman's "Erratic Accuracy Is A Serious Matter"
May 22nd, 2012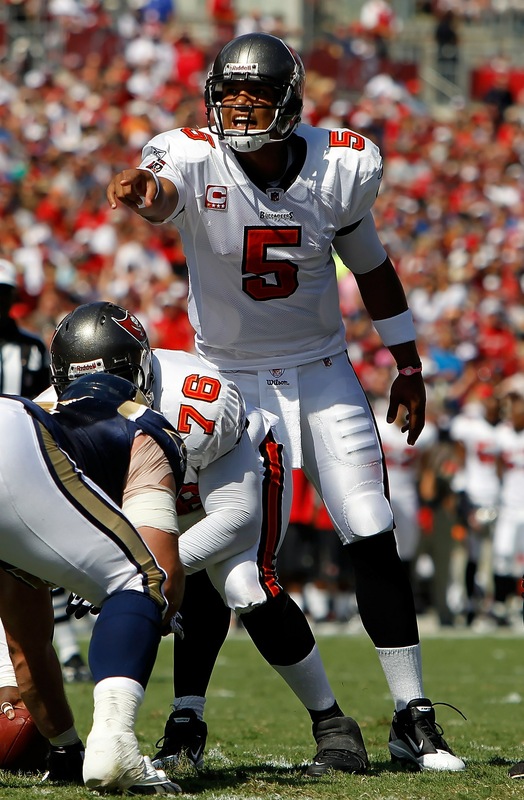 Longtime NFL Films guru Greg Cosell, nephew of the iconic Howard Cosell, has pored over Josh Freeman game film and has penned an interesting and rather sobering look at Freeman on his NFL Films blog.
Here's a snippet below, but Joe definitely recommends you read the whole thing. In short, Cosell is very eager to see what Freeman does under a new coaching staff that can attack his many flaws.
Freeman's size and mobility, however, camouflaged some concerns that were evident on tape in 2010. And as we know, the eye in the sky never lies. I already mentioned his technique issues, but they were exacerbated by a nagging tendency to drift in the pocket, rather than drop straight back on what we call the midline. His accuracy was at times scattershot; he missed on too many throws that you need to make. Most people don't make the connection between proper technique repeated over and over, but it may be the most decisive factor in producing precise ball location.

I remember the Redskins game in early December of 2010. There's no question a Jim Haslett defense gives a quarterback a lot of looks, both before and after the snap, but Freeman really struggled reading coverage. I sensed he predetermined a lot of his throws in the pre-snap phase, failing to properly assess the coverage after taking the snap. One thing that did stand out in 2010 was Freeman's willingness to make tough throws; he was not tentative pulling the trigger. He made a lot of tight window throws. That's a positive.

The overall point is that Freeman's 2010 season, while the numbers looked good on paper, was not quite as strong as the perception. There were some concerns that needed to be addressed if he was going to reach the "elite" status many had already bestowed upon him. Those issues remained in 2011, and consequently Freeman's third season spiraled downhill fairly quickly. I remember finishing the San Francisco tape on the season's fifth Sunday — a game Tampa Bay lost 48-3 — and being very surprised at what a poor job Freeman did recognizing and reading coverage. He missed basic reads. He left the pocket too early, with no pressure forcing him to do so, because he was not getting a clear picture of the defense. Two weeks later against the Bears, he continued to struggle with his reads, his decision making and his accuracy. Make no mistake, the erratic accuracy is a serious matter.
This season really is a clean slate for Freeman. He's got new coaches. He can draw from his experience, their experience, and those of veteran pass catchers Dallas Clark and Vincent Jackson. He'll also have what should be a thunderous running game and a top-flight offensive line.
Essentially, the Bucs have now taken away every possible excuse from Freeman and given him weapons most QBs dream about.
Freeman has to show some serious improvement this season, otherwise the scary reality is that the Bucs will be thinking about drafting a quarterback come 2013.