Bring Joe A Victory!!
May 23rd, 2012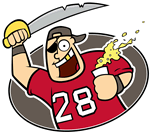 Look, Joe's a competitive guy. Joe hates losing.
And Joe has just learned he's been tossed into a new challenge and Joe is asking for your help.
Underway online is a vote for the best blog in the Tampa Bay area. Popular pop music station 93.3 WFLZ-FM is calling for votes for something called the iHeart Tampa Bay Awards in various categories. (Right now, Joe is in second place behind something owned by the Tampa Bay Times).
Click RIGHT HERE to vote for Joe. That's right. Take 10 seconds and get the job done. Help Joe be his best self. Surely, Joe will be swarmed by Bucs cheerleaders looking for massages if he wins this contest.