"You Better Be Tough"
April 30th, 2012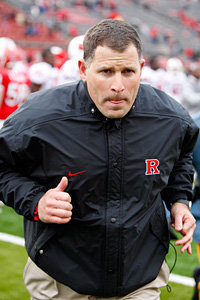 Joe's seen all the draft grades, heard all the pundit chatter, and read all the wrap-ups. The consensus gives the Bucs and rockstar general manager Mark Dominik excellent marks for the 2012 draft. Average it out, from BSPN to NFL Network to draft geeks like Walter Football to national writers, and the Bucs probably get somewhere between an A- and a B+.
So what does it mean? Well, not much until the team hits the field and the players perform.
However, Joe found a couple of interesting takes out there.
First, Charles Davis of NFL Network detailed how this was an extraordinarily skill-specific draft with teams across the league maneuvering and angling to draft for need. On that front, Davis, part of the Man Channel draft guru team, was very high on the Bucs' moves to address their needs. Davis (and seemingly everyone in the free world) sees Mark Barron as a can't-miss player, and he liked the patient Dominik plays to get in position for Doug Martin and Lavonte David, who Davis said is a not only a sideline-sideline linebacker but a goaline-to-goaline player in pass coverage.
Second, Joe found the praise of Mike Lombardi, also of NFL Network, intriguing.
Lombardi rambled on yesterday about how the Greg Schiano stamp is found in this draft with a bunch of tough-guy players that will help erase the bad mentality in place last year. Schiano sent a message that "you better be tough" if you want to play for the Bucs, explained Lombardi.
Lombardi had blasted the Raheem Morris way during last year's preseason, and then again ruthlessly in November, (which led to Raheem telling a story about how he beat the crap out of a kid that made fun of his grandma's running style). Lombardi believes the Bucs 2012 picks are the kind of self-motivated, football-loving tough guys that will infect the entire roster.
It doesn't take a genius to know some of these picks will be busts, but Joe likes Lombardi's line of thinking. Even those who don't pan out from this draft will enhance the New Schiano World Order, which seems to be the right direction for all things Bucs.