The Impact Of Gerald McCoy
April 5th, 2012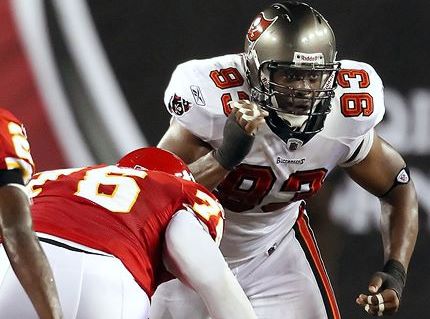 Because he has had two season-ending arm injuries in as many years in the NFL, some Bucs fans are down on first round draft pick Gerald McCoy.
Joe has gone on record that the guy is disruptive, which sometimes is as important as a sack, except to the calculator guys.
Joe has been rounding mocked for this but, even though Joe scoffs at the numbers crowd, sometimes numbers don't lie.
This is the message Evan Silva of Rotoworld.com put forth on Twitter.
@evansilva: Perhaps telling stat: Bucs are 11-8 with Gerald McCoy in the lineup over last 2 seasons. 3-10 when he's been out.
The Bucs defense was 3-10 without him. Wow.
Joe has been harsh on the Bucs linebackers, and Joe thinks it is deserved. Name a worse set of linebackers in the NFL, please.
But Joe gives Mason Foster a mulligan for a number of reasons, one of which is the guy had zero help on either side of him.
Looking at GMC's numbers per Silva, it was clear that with GMC off the field, Foster had no help in front of him either.