"The Commish" Stoked Over Lavonte David
April 27th, 2012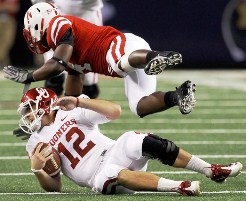 New Bucs linebacker Lavonte David, who played for the same junior college as New York Giants and former USF defensive end Jason Pierre-Paul, has made Joe's good friend, "The Commish," Justin Pawlowski's night.
And Joe's night as well.
The fact the Bucs were able to jump up into the second round and get David is outstanding. David is such a stud, Justin had David ranked as the No. 3 outside linebacker in the draft.
3. Lavonte David – Nebraska
6'1" – 233 lbs – 4.65
2nd Round

Why The Commish would take him:Instincts!!! David knows where the ballcarrier is going before the ballcarrier even gets the ball. He rarely bites on fakes and has an outstanding understanding of the game and his position. When he gets to the ball, he makes the tackle.
This David is simply a ballhawk. He was always around the ball and is outstanding in pass coverage and is not afraid to stick his nose into a fullback's belly behind the line of scrimmage.