Schiano: I Want Him To Be A Buc
April 18th, 2012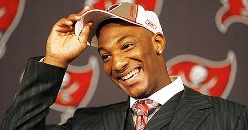 It seems like Greg Schiano wanted to be extra clear that he wants Aqib Talib on his defense, so he told the Bucs' media throng today.
No, Schiano wasn't watching film of E.J. Biggers and Myron Lewis. He was responding to a rumor floated by Scott Reynolds of PewterReport.com that rockstar general manager Mark Dominik was looking to trade troubled No. 25.
ESPN.com Pat Yasinskas took notes as the Bucs' new leader made it clear he embraces Talib.
"I want him to be a Buc,'' Schiano said. "I understand there's been issues before I arrived. I'm not naive to that. And I understand that some of those are a heck of a lot bigger than playing football. But I am really hopeful that that clears itself up. Since I met him for the first time, he's done everything I've asked. He's practiced well and he's prepared well. I try not to judge people other than (by) how they treat me, and he's treated me well."
Before that, per Joe's notes, Schiano said of the rumor, "there's absolutely zero thinking on our part as far as wanting to [trade Talib]."
Schiano's comments remind Joe of Kevin Carter's when talking about Talib.
"I'd see him and it was always, Hi, Mr. Carter. He was respectful,'" said Carter, adding that Talib put in long hours at One Buc Place. "He worked his butt off."

Carter said the Bucs have invested so much in Talib they should keep him and "take your chances that he'll grow up."
Clearly Talib knows how to behave. Doing it consistently, of course, is his problem.