Schiano And Dominik Dancing "Hip-To-Hip"
April 3rd, 2012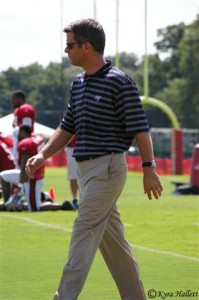 Raheem Morris was always involved in Bucs player personnel matters and publicly embraced the team concept of working with rockstar general manager Mark Dominik and Team Glazer, but Raheem always seemed to be Robin to Dominik clearly assuming the role of Batman.
The Bucs not re-signing Cadillac Williams and Barrett Ruud last year appeared to be strong examples of Raheem filling that secondary role, as Raheem, coming off a 10-6 season and strong consideration for NFL Coach of the Year, had stated he wanted those veterans to return.
This year with Greg Schiano might present a different decision-making dynamic, if one is to read into Schiano's comments on NFL Network last night.
Schaino was asked how "active" he expects to be on draft day as a first year head coach.
"Very active. I mean Mark Dominik and I, we kind of go hip-to-hip with these things. I can't wait," Schiano said. "We had a great run in free agency and looking forward to improving our team and strengthening our team in the draft. So I'm going to be very involved."
Joe's just guessing, but it sure seems like Schiano's role in the draft will be kicked up a notch from that of his predecessor.