Peter King Feels "Jerked" Around
April 25th, 2012
Popcorn-munching,coffee-slurping, fried-chicken-eating, oatmeal-loving, beer-chugging Peter King, famous for his decades of NFL coverage in Sports Illustrated and now on NBC Sports, is about as burned out on draft smokescreens, rumors and speculation as Joe is.
In fact, King seems a lot more frustrated and resorted to a group masturbation reference on his Twitter account regarding the endless Trent Richardson chatter.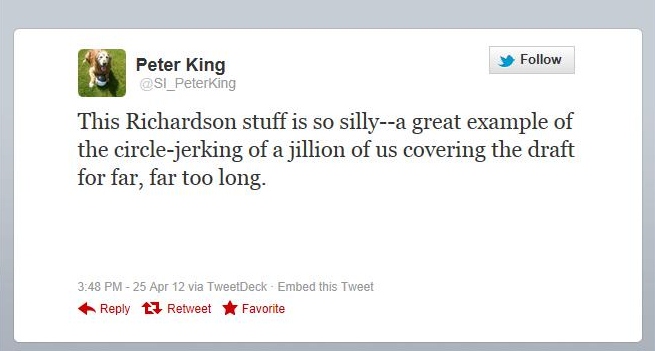 Joe tries to run a dysfunctional family website,  but this was too funny for Joe to pass up. And now Joe has a new hyphenated adjective to decribe King! (See opening paragraph).
There's another 27 hours until the draft. Joe wonders what the madness will lead King to Twitter next?