Mason Foster "Worse" Than Barrett Ruud
April 7th, 2012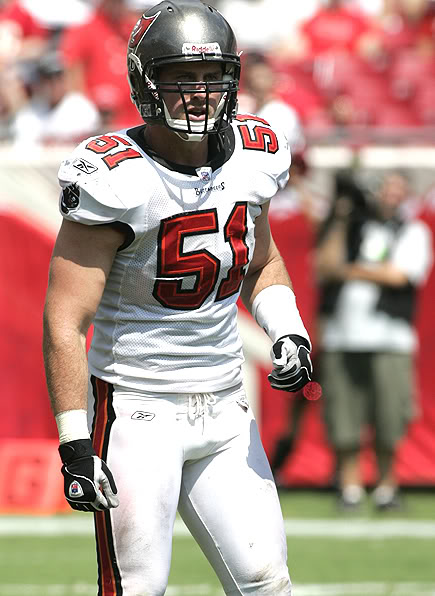 Yes, Joe knows he's been harsh on the Bucs linebackers since the grotesque 10-game losing streak, which proved fatal for then-Bucs defensive coordinator/head coach Raheem Morris.
For good reason, the Bucs linebackers were terrible and the worst linebacker unit in the NFL.
But Joe has given middle linebacker Mason Foster a mulligan. The poor guy received no help on either side of him and when defensive tackle Gerald McCoy went down with a season-ending injury, it just got worse for the guy.
Throw in the fact he played out of position, was a rookie, was forced to call assignments and had no offseason to speak of, it was a recipe for disaster from the word "go."
And it was a disaster.
Foster's name came up in a Twitter discussion by Andy Benoit of the New York Times. Benoit believes — as do Tim Ryan and Pat Kirwan of SiriusXM NFL Radio — that the loss of Ruud was the reason why the Bucs collapsed last year and that Foster being lost in space did not help matters (despite Benoit referring to Ruud as "terrible.")
@Andy_Benoit: As some have pointed out, Bucs D dropped off after losing Ruud. 1 reason for that: Mason Foster, remarkably, was a worse MLB than Ruud. … Signging a veteran ILB would make sense for Bucs, but that also doesn't quite fit their M.O. SOMETHING needs to be done at that spot, though
Yes, "something" needs to be done in the worst way. It doesn't appear the Bucs are going to re-sign Geno Hayes. That leaves a hole in the starting unit right there.
The fact Bucs rock star general manager Mark Dominik has been unable (thus far) to land an inside linebacker suggests to Joe this will be a target in the draft.
Or, Dominik is waiting for the "second draft," when teams make cuts after the draft.