Did CBS Mislead Readers About Blount?
April 19th, 2012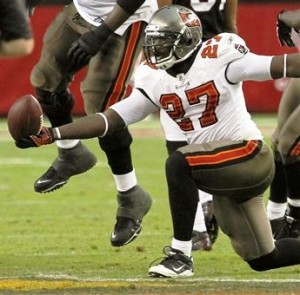 The inherent problem with any form of print media is that quotes typically aren't delivered with any hint as to the subject's tone of voice, attitude, facial expressions, etc. — the things that help a reader know what message the subject was really trying to send. Words are also taken out of context, at times.
LeGarrette Blount apparently learned that lesson April 3, when he told CBSSports.com that he would not be a fan of the Bucs drafting a running back, presumably Trent Richardson, as CBSSports.com made clear in its story.
Speaking to Rick Stroud of the Tampa Bay Times yesterday, Blount advised everyone not to take his comments the wrong way.
"Like I said, it was just a comment," Blount said. "There's nothing for anybody to read too deep into. You know, there's not nothing I would want to explain. It was just a comment and I left it at that.

"Of course. I'd welcome [Trent Richardson] as a teammate. I've met the guy before. He's not a bad kid, but at the same time, like I said, I'd welcome anything that helps the team get better. I'd welcome anybody as a teammate, it doesn't matter who it is.''
In a bizzare twist today, CBSSports.com reporter Will Brinson, who penned the initial story about Blount, wrote about Blount's new comments and felt the need write this paragraph:
Blount's comments at the time weren't directed specifically at Richardson anyway; Blount was just saying that he would be taken aback if the Buccaneers felt the need to draft another running back. 
That's a bizarre take considering the headline of the original CBSSports.com headline read as follows: LeGarrette Blount on Trent Richardson: 'I would not like that pick', and Brinson's opening paragraph set the Richardson stage.
So which is it, CBS?
Joe realizes Brinson likely didn't write the headline, but Joe can't wrap his head around why Brinson would have written that paragraph above today, claiming the quote wasn't about Richardson. That's fishy.
Regardless, it was a dumb thing for Blount to utter at the time and Blount is now saying the right things. But Joe's feeling like Blount got chop-blocked by CBS.