Schiano's Ability To Teach Sold Dominik
March 25th, 2012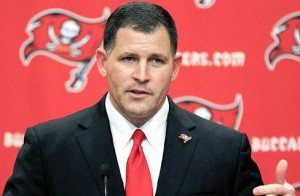 After Oregon's Chip Kelly flirted with the Bucs as potentially the next Bucs head coach, but at the last moment, sort of a like a coveted high school football player on the eve of signing day, shunned the Bucs' advances, it threw the Bucs back into coaching-search mode.
Days later, the Bucs settled on Rutgers coach Greg Schiano, who came with a strong reference from no less than Bill Belicheat.
Woody Cummings of the Tampa Tribune uncloaked another reason, maybe more so than the word of Belicheat, that sold Bucs rock star general manager Mark Dominik on Schiano:
He was able to get through to young players.
The Rutgers graduation rate, which was tops in the nation in 2010 and second in 2011, tells Dominik that Schiano not only can relate to players but also motivate and discipline them in a way that produces positive results.

"Because we have such a young football team, it's really important that he be able to get through to the players and motivate them," Dominik said at the time of Schiano's hiring. "What he did with the graduation rate at Rutgers is amazing."

"What that tells me is that young people are listening to him and buying into what he believes in and what he says about how you grow and become a professional, and not just on the field but off the field."
Or, if Joe can play Devil's Advocate, Schiano, like his mentor Joe Paterno, wasn't looking for just football players to fill out his roster, but smart football players who valued a college education.
Now if Dominik and Schiano are trying to incorporate Paterno's "Grand Experiment," where Paterno proved his lifelong quest that one can build a championship college football team with student-athletes, not just football players, then Joe is all ears to this concept.
It sure seems that's the way Dominik has drafted recently with smart guys like Josh Freeman, Gerald McCoy and Adrian Clayborn, to name a few.