No Additions To The Linebacker Corps… Yet
March 27th, 2012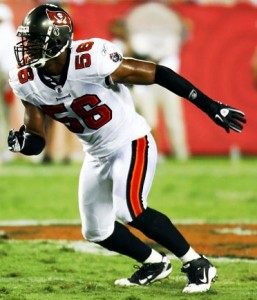 See what happens when NFL types get together whether it's the Super Bowl or the combine or the NFL owners meetings? News happens.
Today's nugget of news is typed out by Stephen Holder of the Tampa Bay Times who got a few words in with Bucs rock star general manager Mark Dominik this morning at the NFL owners meetings in Palm Beach.
Among the wide variety of subjects Dominik discussed was that Bucs fans should settle and embrace the crop of linebackers currently on the Bucs roster.
In short, Dominik says he's not going to chase any more linebackers. Not now anyway.
As for the linebacker position – which has been under much scrutiny because the team has elected not to make any linebacker signings – Dominik said the priority is to allow the new coaching staff to work with the current players before drawing firm conclusions. The Bucs will have a new defensive system, which they'll start learning when coaches and players are permitted to begin working together on April 2.

The Bucs will have a minicamp in mid-April, before the NFL Draft.

"I think they have to get to know the guys a little bit better," Dominik said of the coaches. "They haven't even had a chance to be in the classroom to actually learn anything. Until our guys get to line up and actually occupy the three (linebacker) spots, and then we get that minicamp before the draft, that's going to be an education for everybody. The classroom is going to be the key."
In Joe's eyes Dominik is playing a well thought out, reasoned game of poker here. He knows the linebackers need an upgrade, if for no other reason than it appears Geno Hayes won't be back, unless of course the Bucs are planning on starting pass rushing specialist Dekoda Watson.
The same reasoning Dominik gave for not courting a linebacker could have been said for the wide receiver position, the offensive line and secondary, all areas where the Bucs have made personnel moves in recent days.
Dominik's words are basically twofold: One is to the London Fletchers of the world: the Bucs will welcome you with open arms but are not going to overpay. Also, not long from now is the second free agent period, the time before training camp when teams cut veterans.
A diamond in the rough very well could be found in May or June. At this point, it doesn't pay for Dominik to be aggressive for a linebacker.