New Free Agents Won't Equal Sellouts
March 19th, 2012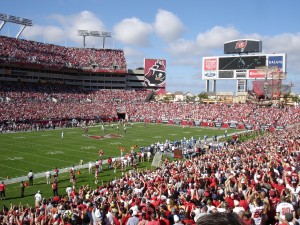 So many times and so often Joe has read about fans claiming if Team Glazer channeled Danny Snyder and started cutting checks right and left, said fans would return to the stadium on Dale Mabry Highway.
Color Joe skeptical.
Now will the signing of wide receiver Vincent Jackson, guard Carl Nicks and cornerback Eric Wright bump up ticket sales? Joe's pretty sure, yes.
Does that mean there will be a season full of sellouts this season, Joe will bet no.
This same subject was tackled by dapper Rick Brown of the Lakeland Ledger.
Ever since the purge and coaching change, fans have been slow to come back to Raymond James.

The team has had blackouts in 13 of the past 15 regular-season games. That means the stadium hasn't officially been sold out and the team hasn't been shown on local TV.

It probably should have been more games as the Glazers brought tickets to prevent blackouts in Raheem Morris' first year. When the club went 3-13, the Glazers said enough.
There have been many changes since Chucky was last coaching along the Bucs sidelines that, in part, keep fans away from Bucs home games.
There is HDTV at home. It many ways, it's a better way to watch games than at the game, though there's no way of duplicating a stadium atmosphere. And of course, you can relax while watching a game at home, not having to stand up the whole game because a couple of louts in front of you are of the mind the Bucs cannot win unless they are "into it."
But the most important part about what has not changed since Chucky was jettisoned is people's homes in Florida are underwater or on the verge of foreclosure.
People simply don't have the expendable income as they did 10 years ago. Denying this simple fact is like burying one's head in the sand at Treasure Island.
When it comes down to putting grub on the table or making car payments or house payments, Bucs games take a back seat to such priorities.
Until the housing market rebounds, until the local economy rebounds, Joe doesn't expect a season full of sellouts like the Bucs enjoyed for so many years at the end of the last century, or the first few seasons of this century.